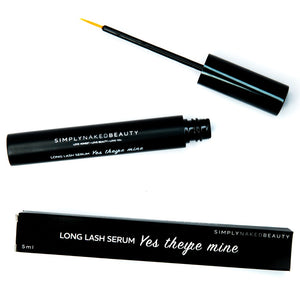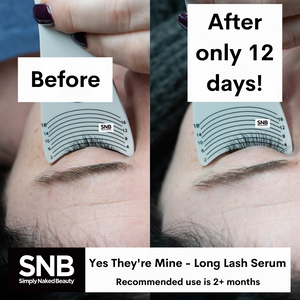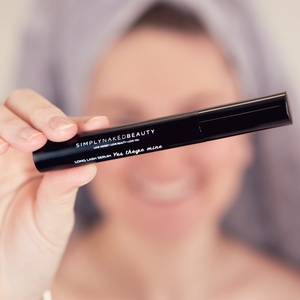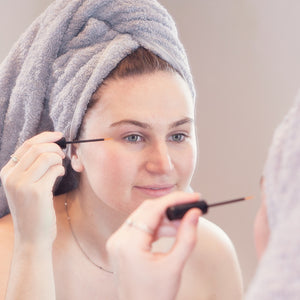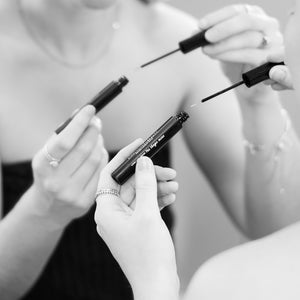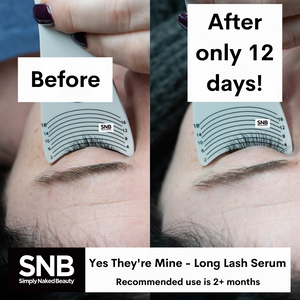 Yes They're Mine - Long Lash Serum
*Are you a retailer or salon looking to stock the NEW SNB Yes They're Mine -  Long Lash Serum? Get in contact about stocking this at contact@simplynakedbeauty.com *

At Simply Naked Beauty our mission is to provide beautiful and effective beauty products that actually work! (without the nasties)
We have been testing and trialing this product extensively and we are pleased to bring you this Long Lash Serum that actually works!
The participants of our testing were amazed by how much this eyelash serum worked! All of them noticed a difference after only 6 weeks and reported that they were constantly getting compliments on how much fuller and thicker their lashes and brows looked during this time. After 12 weeks (enough time for a full lash cycle) the participants reported much longer lashes too. To the point where some stopped wearing fake eyelash extensions.
Lash Extensions Safe?
Yes! Using the Yes They're Mine Long Lash Serum is a great way to naturally grow your lashes, even while wearing extensions! 

No nasty ingredients! Sensitive to your delicate eye area
A common complaint with other Eyelash Growth Serums we saw is that they can leave the skin around the eye red or discoloured. Our product was specifically formulated without the harsh ingredients that may do that, and instead we use a blend of different Peptides, natural Avena Sativa extract and other ingredients to promote rapid growth of the hair follicle.
Application: Apply at the eyeline of the lashes (where the lashes meet the eyelid) twice a day with a generous amount of the serum.
For brows: apply a generous amount of the serum morning and nights to the entire brow.
Ingredients: Aqua, Propylene Glycol, Glycerin, Panthenol (vitamin of B5), Magnesium Aluminum Silicate, Myristoyl Pentapeptide-4, Palmitoyl Tripeptide-1, Acetyl Tetrapeptide-3, Hexapeptide-3, Allantoin, Phenoxyethanol, Biotin, Methylparaben

Works on the Eyelash and Eyebrow
With the generous 5ml size (0.169 fl oz) there is plenty of the serum to work wonders on your eyelashes and eyebrows without running out! A common complaint we saw in our research was that other brands only gave you 2-3ml. We wanted you to see results so have given you a generous 5ml size!

You have to try it to believe it! Simply add to cart above and check out. Follow the instructions perfectly and you will be amazed by the results!
People will ask you, are those real?? And you will "Yes They're Mine!"
Pair this with the Simply Naked Beauty Best Selling 3d Fiber Mascara and Simply Naked Beauty Castor Oil for incredible results.
*Are you a retailer or salon looking to stock the NEW SNB Yes They're Mine -  Long Lash Serum? Get in contact about stocking this at contact@simplynakedbeauty.com *