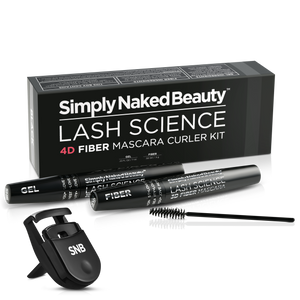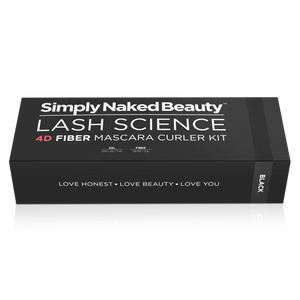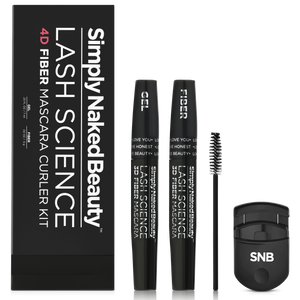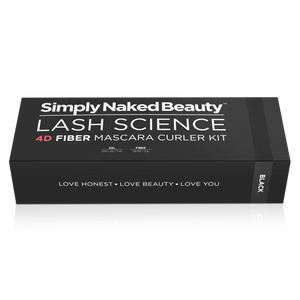 Lash Science 4D Fiber Mascara Curler Kit
LASH SCIENCE - 4D Fiber Mascara by Simply Naked Beauty. 
Say hello to massive lashes made from natural and non-toxic ingredients with the highest review rating on the market: COLOR: Midnight Black 400x LASH VOLUME IN 5 MINUTES
Lash Science uses a black mascara gel base and black, natural improved fibers to create massive volume in 5 minutes. Lash Science 4D Fiber Mascara will give you the most volume and length outside of extensions and false eyelashes/falsies. Guaranteed.
SUPER EASY TO APPLY
With the most detailed and easy-to-follow directions you have ever seen and a customer support team of beauty specialists, Lash Science goes on so quickly, you'll be amazed. Comes off easily and fast.
THE BEST 4D FIBER LASH MASCARA ON THE MARKET.
Our gel formula is an advanced and proprietary formula distributed only by Simply Naked Beauty and has the highest customer review rating on the market. It is designed to create massive volume, never clump and last all day. Want the best 4D Fiber lash mascara? This is it.
LASTS ALL DAY, WATERPROOF & SMUDGE PROOF
Don't worry about your lashes! Lash Science will last all day, is waterproof and smudge proof. Biggest ever lash volume and length that lasts all day no matter what you are doing? Bring on sexy. Includes Mini Eyelash Curler.
HIGHEST QUALITY, NON-TOXIC, NATURAL & SAFE INGREDIENTS
Lash Science is made from natural, non-irritating and non-toxic ingredients perfect for sensitive skin. Hypoallergenic ingredients and never tested on animals. Paraben free.